---
Pyle PDC21 Premium Direct Injection Audio Box
Professional Power
A direct box, or DI box, provides the facility for the direct insertion of an audio signal into a mixer or recorder. The PDC21 offers a variety of DI solutions for live sound and recording applications. You can connect all kinds of audio signals like guitars, keyboards, outboard signal processors. This unit enables you to tap off the signal from a guitar or bass guitar and pass the signal from the Para Output to the on stage amplifier without affecting the original sound. This can eliminate the need for mixing the guitar amplifier, which in many cases is preferable, especially with bass guitar.
Clean Audio
The unit is also very useful for connecting unbalanced signals from sources like signals DJ and sub-mixers, effects processors and keyboards to a main PA or recording mixer. The PDC21 balanced output provides a clean signal at a low level as long as runs of cable are possible. Another benefit from a balanced connection is common mode rejection, which provides cancellation of unwanted sounds (hums and buzzes) while leaving the original signal pure.
Direct Insertion of an Instrument to PA System
One of the most popular uses of a DI box is getting the signal of the bass guitar to the PA system. Simply put, the low frequencies produced by bass are difficult to mic/record, so use of a DI box is almost always preferable.
Some of the amazing features of this product:
Provides clean audio: useful for connecting unbalanced signals from sources sub mixers, effects processors & keyboards to a main PA or recording mixer. This Impedance transformer also has buzz & hum cancellation ability
Easily connects instruments: getting the signal of a musical instrument to the PA system is easier with this direct box. Just connect the electric Bass, Guitar, keyboard or other processors to the ground lift adapter & enjoy pure & clean audio
Versatile direct box: aside from music instruments, The DI unit can also be connected to the line output of a boom box or consumer stereo system if you want to sample old records. The hum eliminator is used for connecting unbalanced devices as well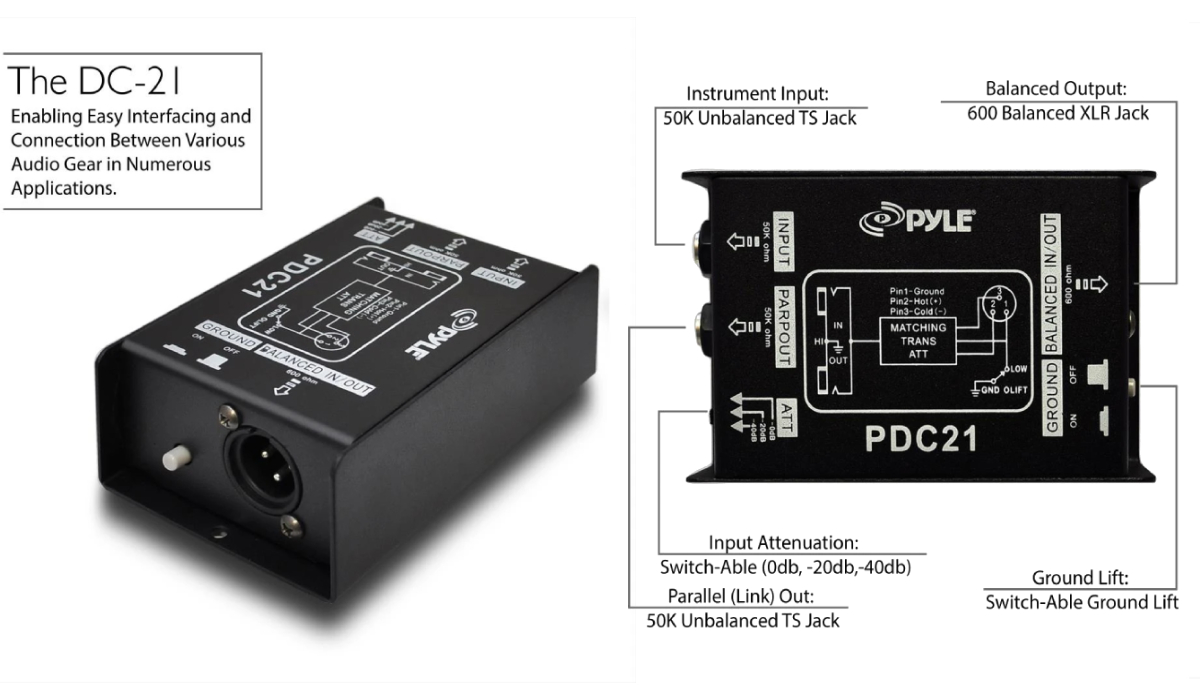 Pyle PDC21 is a necessity if you are looking for the higest quality of sound, with low distortion, noise, and eliminate ground loops. A DI unit, DI box, Direct Box, Direct Input, Direct Injection or simply DI is an electronic device that connects a high impedance, line level, unbalanced output signal to a low impedance mic level balanced input, usually via XLR connector. DIs are frequently used to connect an electric guitar or electric bass to a mixing console's microphone input. The DI performs level matching, balancing, and either active buffering or passive impedance bridging to minimise noise, distortion, and ground loops. DIs do not perform impedance matching. Pyle has been in business for over 35 years, and their manufacturing experience and expertise is easy to see - and hear.
Have the capability of tapping off signals from amplifiers, such as the output or guitar amp or power amplifier. You can even connect this unit to the line output of a consumer stereo system or boom box --if you want to sample some old records or cassette tapes.
This DI box also does a great job in the studio for connecting unbalanced devices. For instance, the output levels of many keyboards are low, so their signals can benefit generally by connecting their unbalanced outputs to the unit which makes the signal to move cleanly without interruption. The signal will be allowed to travel for long distances while benefiting from the low noise and common mode rejection provided by this unit's balanced low-level output.
Specifications
Instrument Input:
50K Unbalanced TS Jack
Construction:
All Steel Chassis
Sold as:
Unit
Weight:
1.05 lbs.
Parallel (Link) Out:
50K Unbalanced TS Jack
Input Attenuation:
Switch-Able (0db, -20db,-40db)
Ground Lift:
Switch-Able Ground Lift
Balanced Output:
600 Balanced XLR Jack
Dimension:
4.72'' X 3.01'' X 1.77''
UPC: 068888894784
Weight: 1.2
Authorized Internet Dealer
Warranty: 1 Year Manufacturer warranty.
This item is accompanied by a manufacturer's warranty. If it is found to be defective, it may be returned to OnlineCarstereo.com for replacement within 1 year from the original date of purchase with proper return authorization.