---
Hifonics BG-2500.1D
Hifonics BRUTUS Gamma Mono subwoofer audio amplifier delivers 2500 watts with Super D Class™ technology that features Ultra-Fi™ MOSFET outputs that are selected for both balance and output power.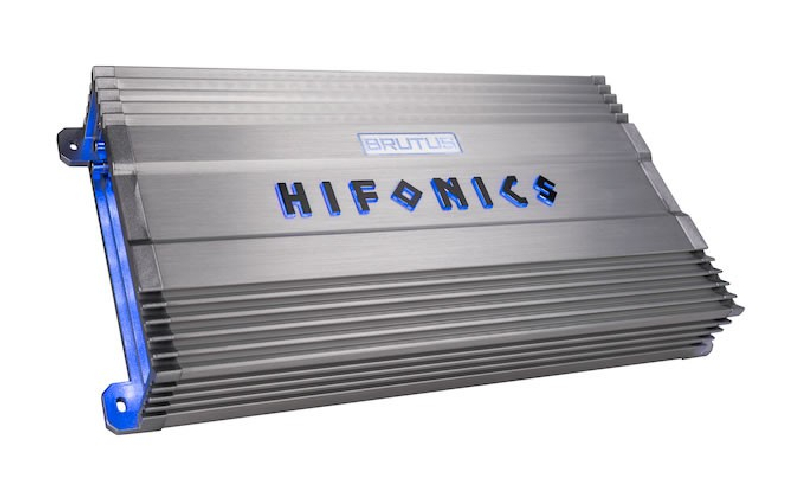 General Features:
TYPE: Mono Subwoofer Car Audio Amplifier
CATEGORY: BRUTUS Gamma BG
CLASS: Super D Class™
TOTAL CHANNELS: 1
POWER: 2500 Watts
FUSING: External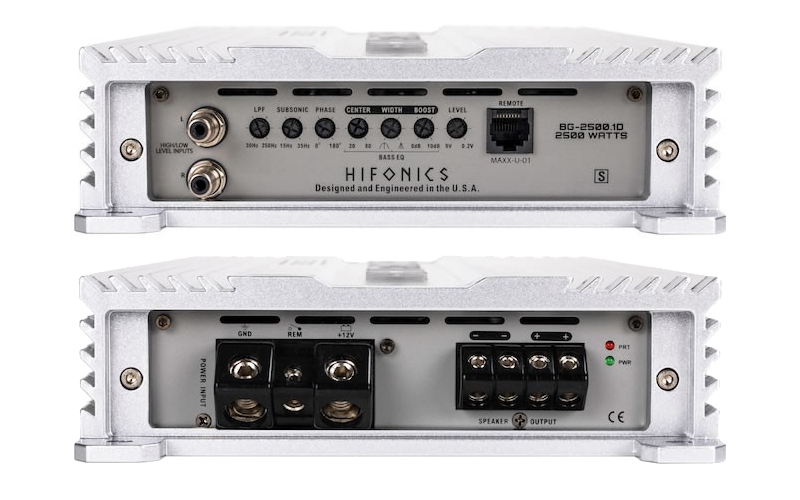 Maximum Power : 2500 Watts
Number of Channels : 1
Frequency Response : 10-500 Hz
Built In Crossovers : Yes
Channel Separation : No
RMS Power Range : 1250 Watts
Amplifier Class : D
LOW NOISE PREAMPLIFIER CIRCUIT
Maximum low voltage signal from the source unit comes into the amplifier circuit with minimal distortion.
RCA INPUTS
Nickel-plated RCA jacks create the most effiecient High/Low Level audio connection and resist corrosion.
OPERATION MODE
CROSSOVER TYPE
Variable electronic crossovers allow for complete control of the sound.
ELECTRONIC EQUALIZER
Control of amplifier output with on-board electronic crossover to tailor specific frequencies to speakers and subwoofers.
CLASS/TOPOLOGY
Super D-Class™ designs which employ high-speed microprocessors with proprietary D/A conversion algorithms to efficiently control the current consumption. At very high listening levels, Hifonics amplifiers with Super D-Class circuitry result in lower distortion, higher current efficiencies and less heat than conventional D-Class amplifier designs.
OUTPUT DEVICE TECHNOLOGY
Pro-Fi™ Output Device Technology: The Ultra-Fi™ MOSFET is designed for music production vs just electronics output power. It produces very musical high power with high efficiency for cooling and minimal distortion.
HEAT SINK
Classic aluminum Hifonics design to minimize heat build up on the Ultra-Fi™ output devices.
POWER SUPPLY
Simpatico Coil Design: The dual coil Pulse Width Modulated power supply keeps voltage constant through the Ultra-Fi output devices.
OUTPUT CONNECTIONS
High temperature impact resistant nickel plated connectors with allen head set screws which allow for secure termination of wire and creates an erosion resistant seal.
CONNECTION TYPE
Secure molded connection terminal for all Power, Ground and Speaker connections. Angled for ease of access while creating a clean wire mangement profile.
LED SYSTEM PROTECTION CIRCUITRY DIAGNOSTICS
Monitor overload and speaker short protection with illuminated indicators on the amplifier end panel.
BASS REMOTE INCLUDED
Wired Bass Remote allows adjustments to bass frequencies from the control which can be mounted anywhere in the vehicle.
PHASE ADJUSTMENT
Phase 0-180°: Bass drum attack, snap requires phase between deep frequency subwoofers and upper midbass speakers.
CEA STANDARDS
CTA-2006B Compliant. CTA stands for Consumer Technology Association and Hifonics has been a member for decades.
CLASS
TOTAL CHANNELS
POWER @ 1 OHM (CH X WATTS)
POWER @ 2 OHMS (CH X WATTS)
POWER @ 4 OHMS (CH X WATTS)
CROSSOVER
Variable Electronic 12dB Per Octave
VARIABLE LOW PASS CROSSOVER 12DB PER OCTAVE
TONE CONTROL/PARAMETRIC EQ
BASS BOOST
SUBSONIC FILTER
PHASE SHIFT
VARIABLE VOLTAGE
FREQUENCY RESPONSE
TOTAL HARMONIC DISTORTION (THD)
SPEAKER LEVEL AUDIO INPUTS
POWER TERMINAL 12V/GND
SPEAKER TERMINAL WIRE GAUGE
FUSING
UPC:
Weight: 12
Authorized Internet Dealer
Warranty: 1 Year Manufacturer warranty.
This item is accompanied by a manufacturer's warranty. If it is found to be defective, it may be returned to OnlineCarstereo.com for replacement within 1 year from the original date of purchase with proper return authorization.