---
Kenwood Excelon XR1001-1
Excelon products incorporate the latest technologies and deliver the highest sonic performance. From advanced audio tuning capabilities, crossover and equalizer systems, high voltage preouts, excelon represents the very best product available.
Onlinecarstereo has been a long time authorized dealer of Kenwood products and we make sure you get your products on time. We source our supplies straight from the manufacturer / dealer so you can be sure you're getting an authentic and original Kenwood product.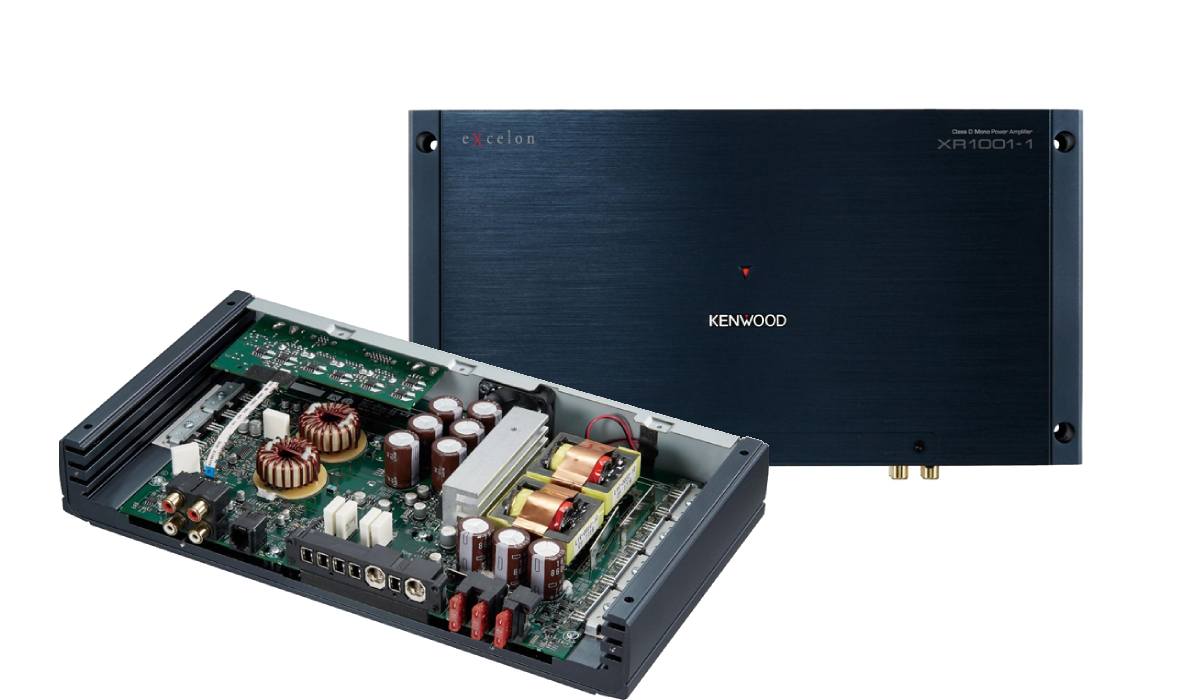 Power Acoustik CB1-2500D
A cool woofer is a happy woofer. Perimeter venting in the back bracing and along the spider landing provides max air flow, while the UniPlate™ extended pole piece & backplate allow additional heat dissipation.
Thanks to advanced speaker technologies like SoloKon™ cone reinforcement, 360 degree back bracing and an oversized suspension, you get very low distortion and incredible clarity at any volume level.
What's Included?
1 Kenwood Excelon XR1001-1
1 Kicker 44CVX124
XR1001-1 Reference Series Class D Monoblock Car Amplifier with 2000W RMS Max (1000W) at 2 Ohms Speaker Level Inputs
Features:
CTA-2006 Compliant

Dual ΣDrive

Speaker Level Input

Signal Sensing Turn-on

Terminal Cover

Cooling Fan

Power MOS-FET Switching Power Supply

Extruded Aluminum Heat Sink Design

Line Output Terminals for Extension

Class

D
Version:2 ohms
Channels:1
RMS Power Rating:

4 ohms: 1 channel x 500 watts
2 ohms: 1 channel x 1000 watts
1 ohm: N/A

Max Power Output:800 watts
Input ImpedanceL:10000 ohms
Signal to Noise Ratio:100dB
Frequency Response:20 Hz to 200 Hz
Variable Low-Pass Filter:50 - 200 Hz, 24 dB/octave
Input Sensitivity:

0.2V-5V (low)
4V-12V (high)

Infrasonic Filter:15Hz-40Hz, -24dB/oct
Bass Boost:40Hz, 0dB-+18dB
Total Harmonic Distortion: <1%
Fuse Rating:40A x 3
Dimensions (W x H x D):320 x 51 x 169 mm (8-11/26 x 1-3/8 x 6-5/8)
44CVX124 CompVX Series 12", DVC, 4-Ohm, 1500 Watts Max Power Car Subwoofer
The cast aluminum basket comes with a motor-cooling perimeter venting and spring-loaded terminals that can accept up to 10-gauge wire, so when you run tons of power to this sub, it gives you loud, distortion-free bass all day long.
General Features:
Dual Four-Ohm Voice Coils
Thick Polypropylene Cone
Signature Double Blue Surround Stitching
Ribbed Santoprene® Surround
SoloKon™ Cone Reinforcement
Oversized Suspension System
High-Strength Insulated Tinsel Leads
High Temp Voice Coil
Perimeter Venting for Thermal Management
Massive Ceramic Magnet
UniPlate™ Extended Pole Piece & Backplate For Superior Heat Dissipation
Cast Aluminum Basket
Satin Nickel Spring-Loaded Speaker Terminals
Want setup help? Go to KICKERU for a free woofer & amplifier configuration app!
*The CompVX 12-Inch Subwoofer works best with a sealed or ported enclosure and 750 watts of recommended power. See below for more details.
Features:
Size (IN.,CM): 12, 30
Impedance (OHMS): 4 DVC
Max Rec Amplifier Power (WATTS PEAK/RMS)*: 1500/750
Sensitivity (dB 1w/1m): 87.1
Frequency Response (Hz): 20-500
Mounting Depth (in, cm): 6-11/16, 16.9
Mounting Cutout (in, cm): 11-1/16, 28
Min Sealed Box Vol (cu. ft, L): 1.0, 28.3
Max Sealed Box Vol (cu. ft, L): 4.6, 130
Min Vented Box Vol (cu. ft, L): 1.75, 49.6
Max Vented Box Vol (cu. ft, L): 2.25, 63.7
UPC: 798418842175
Weight: 30
Authorized Internet Dealer
Warranty: 1 Year Onlinecarstereo.com warranty.
1 Year warranty from Onlinecarstereo.com implies that repairs must be returned to Onlinecarstereo.com, not the manufacturer. More information can be found in our help section under returns & warranties.
What's not covered : Misuse, abuse, defacement, physical damage of any kind, and improper installation / operation. Video and multimedia equipment with damaged or cracked screens.Subwoofers and speakers are not warranted against being blown, burned or abused.
Do you own this product?
Write a review!
Bought this bundle because I really wanted this amp. This amp is a beast. Plenty of power on this one. The price speaks for itself. And then Online car stereo partnered it with a very nice Kicker sub. It's a no brainer that this is a must buy for anyone looking for a great bass for their car. Worth my money.